We are still open in February, enjoy the quality at home.
Free shipping for orders in Valencia city, Benimamet.
For shipments to South America and Central America, customs must be consulted.
Galiana Nougat - With you for 170 years
Today, as 170 years ago, the nougat that we distinguish with our accredited Galiana brand, are made with the same formulas, care and neatness with which our predecessors did. And now, as before, they are regarded as the best products of the nougat industry .
Every year's favorites
Discover the most valued products within our wide assortment of sweets and nougat.
discover them →
Fine Jijona nougat
Turrones Galiana
Bar of our artisan nougat from Jijona (fine).
Ingredients: Toasted Almonds (70%), Sugar, Honey (12%) and Egg White.
May contain traces of other nuts and peanuts.
AVERAGE NUTRITIONAL VALUES PER 100 grs
- Energy Value: 2320 Kj / 560 kCal
- Fats: 36 gr, of which saturated 3 gr
- Carbohydrates: 39 grs, of which sugars 36 gr
- Dietary Fiber: 2 gr
- Proteins: 18 gr
- Salt: 0.02 gr
You will be charged the indicated price, but if the weight is less than that specified, the difference will be paid.
See the full product →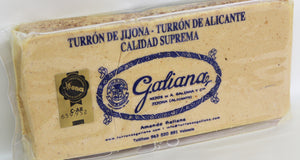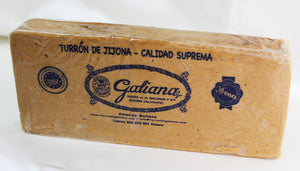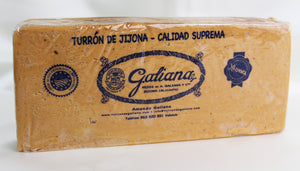 Candied fruit
Try our delicious candied fruit and let its simplicity surprise you with an incomparable flavor.
discover them all →
"The service is excellent and the quality of all their artisan products is unsurpassed. You will find the best Christmas nougats and sweets in the world in this establishment. "
PETRI CHICO LÓPEZ
The attention is exquisite. The nougat is spectacular, probably the best in the country, and it is certainly worth the price you pay for it. The candied fruit chocolates are a success, if you like chocolate you cannot miss their products.
AMANDA LATORRE
My family has been a customer for many years. It is a family business that has been operating since 1947. Its elaborations are artisan made by hand with very good base product and that makes a difference. I really enjoy them, yes, quality pays off.
CARLLOS SALAZAR (GOOGLE LOCAL GUIDE)
JIJONA NOUGAT
The one of all the life.